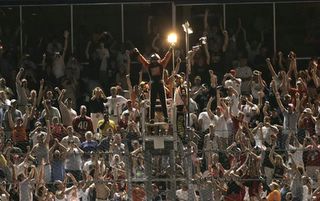 Tony Stewart dominates Daytona
What more is there to say?
Tony Stewart
just crushed the competition at Daytona. He led 151 of 160 laps. This is two wins in a row for Smoke. He is showing now, that he is ready for the Chase to begin. He may even enter the Chase in the points lead. He is only 136 pts out of first. Hopefully he keeps some of this bottled up until then. He will be attempting to go after his second championship this year. If they keep building cars like that, Tony will be able to drive off with a passenger.
As for Junior, he finished in 3rd. This is keeps his season on life support as he is now 506 points out. He needs to make up 106 to qualify for the post season. May be this is the "push" in the right direction. I think now that everything has been put out in the open, the emotional baggage, and the in-team rivalry put aside, both Michael Waltrip's and Dale Jr's seasons are going to make dramatic turns. Look for them both to make the Chase.
There is now 13 drivers eligible for the Chase, which is in nine weeks. If you watch any of NBC last night, that was pounded into your head. Who will finally make the cut? There are some serious contenders in there. Rusty Wallace is 205 points back in 5th. He could make his final year, his best year. If Mark Martin (8th, -310) stays out of the kind of trouble that he got into last night, he could do the same. Kurt Busch (9th, -348) knows how to use the points racing to his advantage. That is how he got last year's championship.
There is no one age group dominating the points this year. It is spread out amongst the field. This could be a very interesting year, if there is more than ten in the Chase. There would be a lot of mid week hype in the news medial. The stories would be endless, just what Nascar is looking for during NFL season. I have to say, what keeps me motivated about Junior's chances is that Nascar commercial about Jeremy Mayfield (11th, -349) making it into the Chase on the last lap of the 26th race. Keep diggin' JR.
The two droppers of the week were Mark Martin and Carl Edwards (12th, -351). They both lost three positions in the standings due to wrecking out. The biggest jumper was Dale Jarrett of two spots to 10th, -348.