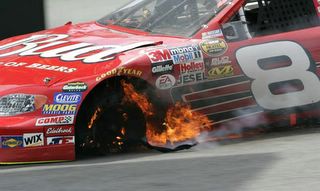 Thanks at least a million and change to the good people who do public relations work for Anheuser-Busch and Dale Earnhardt Jr. for sending this along. Pretty rich stuff.
Best Radio Chatter:
Dale Jr. remained calm, but frustrated, after a second flat tire caused a fairly ominous fire and damage to the left-front corner of the car.
Dale Jr: "Flat tire. Left front's flat."
Steve Hmiel (crew chief): "10-4. Gotcha."
Jimmy Kitchens (spotter): "There's a lotta sparks. It looks like it's down on the front sway bar."
Hmiel: "The left front's not turnin.' Let's get those fire extinguishers…. (to Junior) Do you have brakes? Put that fire out first. Put out the fire… you alright in there June?"
Dale Jr: "'Bout as good as I could be, I guess…."
Hmiel: "Just makin' sure you're still breathin' alright in there."
Dale Jr.: "What's cutting the left fronts down?"
Hmiel: "We don't know. We aren't crazy on air pressures or camber. It's the fourth one so far today."
Dale Jr.: "I'll ride it to the third flat tire, but then you can get somebody else to get in here for the fourth…"
Can this season get any worse for Junior? It is something every week. You think that the bad luck streak would eventually break. I guess that is also a part of being a die-hard fan. You put up with bad with the good. Last year at this time, JR was first in the points. Well, this year he is in 16th, 504 points back. I think the only thing that could save this season is a bad luck streak for Jimmie Jackass. It doesn't look like that is going to happen. The Hendrick teams have their shit together this year.
Sunday was a bitter sweet day for Carl Edwards (99-Nextel, 60-Busch). He won at Pocono, PA for the Nextel Series. He fell to fourth in the points in the Busch Series because the race was in Nashville, TN and he wasn't there for the race. If Nascar would have started the Busch race Saturday night, even for one lap, Edwards would have been "the driver of record". This would have allowed another driver to drive for him and Edwards to get all the points earned by that driver. But that didn't happen. Reed Sorenson now leads the Busch Series points with Martin Truex Jr and Clint Bowyer 51 points back. Carl is 96 points back.
We are now down to twelve drivers for the
Chase
. Carl Edwards was the big jumper of five spots to 4th, 303 points back. Tony Stewart was the big dropper of the week of five spots to 10th, 380 points back. With only 12 races left, it doesn't look good for either DEI driver. They both need a lot of help!