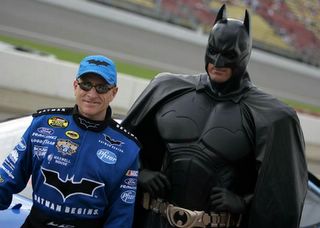 Mark Martin at the Batman Begins 400 at Michigan Speedway
Can you believe it? Dale Jr. actually finished on the lead lap. Hold on tight for this one. He actaully gained ONE POINT on Jimmy Jackass. I was taught in school that a positive is better than a negative. This just might be the turning point for Jr's season. Yeah, we'll see. Next week is a road course. Anything can happen. JR is my driver. I will not give up on him. I have learned to take the good with the bad. So, I am looking for next year to be an awesome year. JR is now 503 points back in 17th.
With eleven weeks till the Chase, there are only eleven drivers left. It looks like the only way that we will have more than ten drivers in the Chase this year is if Jackass and Biffle both have a DNF sometime soon. So much for wishful thinking. Jeff Gordon is the lastest star to drop from eligibility for the Chase. I wonder when the press is going to start writing about and interviewing the shit out of him. The press's boy-wonder is not in the Chase. BOO FREAKIN' HOO!!!
I was pulling for Tony, Sunday. I really thought he was going to pull it off. No problem though. He was the biggest jumper of the week of four spots to 6th, at 311 points back. The biggest dropper of the week that is still in the Chase is Kevin Harvick of three spots to 10th, at 370 points back. Jeff Gordon was the biggest dropper of the week that fell out of the Chase to 12th, at 406 points back.