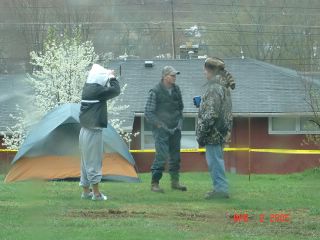 I have so much to write about Bristol. We had an adventure. I will post it tomorrow. I still have more to write. I want to get it all written down. Trust me, it will be worth it. I love to suffer for your laughter.
Any way, Danial Boone showed up for the race. I had to get his picture.
The girl on the right was a dumbass. By the end of the night, her pants were soaking wet from where she fell. I know she fell because she had a big brown dot of mud on the back of her head. It was hilarious. Sorry I couldn't get a picture. The camera wasn't availbable.